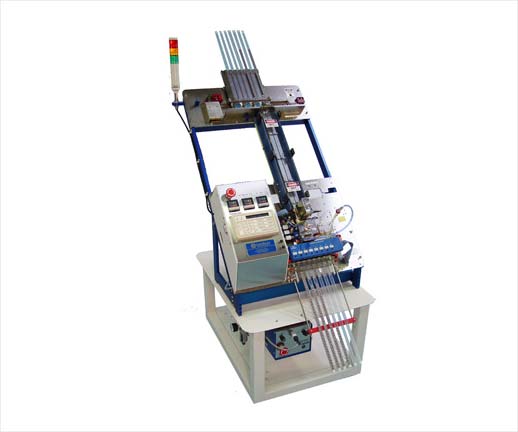 OPTIONS:
Full and mini changeover kits for additional device/tube sizes.
- Over 100 options available.
- For lead counts from 4-66 pins.
- Changeover is quick and easy. (10 minutes max.)
- No other handler accepts a wider variety of tubes and devices.
RF test, multiple test sites, Hi Pot, and direct dock interfaces.
Light pole, floor mount, and/or safety cover.
Spare parts kit.
On-site installation.
SPECIFICATIONS:
Size: 0.66m (26") W x 0.5m (20") D x 0.9m (36") H (table top model)
0.7m (29") W x 0.8m (31") D x 1.4m (57") H (with optional base as shown)
Weight: 20.4kg (45 lbs)
Required Power: 100-240 VAC, 50/60Hz
Required Air Pressure: 5.5 bar (80psi), 1 CFM clean, dry air
OPERATION:
The operator loads up to 8 tubes of devices into the Octoloader. Then the handler automatically moves the input right/left until the devices fall into the Hot Rail. The devices are heated to the required temperature. An easy to set soak timer guarantees the devices are not tested until they have been soaked for the minimum required time. From here the devices are sep3rated to allow just one device to fall into a heated test site. All Exatron handlers have double DUT detection. The device is then placed in a wide variety of test contacts. Once testing is completed the device can be sorted to any one of the 8 output tubes. There are sensors throughout the device path to detect jams and errors and to guarantee positive binning.
Changeover is simple. The Octoloader input assembly snaps on/off. The Hot Rail and Test Site Assembly require only a few bolts, using just one size tool. The Test Site Assembly is removed as one complete assembly, including the test contacts. No contact re-alignment is required for changeover. The sort shuttle snaps on/off. The output tube holder can be lifted off as one assembly or, if you are using Exatron's exclusive heavy-duty aluminum output tubes, all sizes fit into the same size holder.